August 1st, 2008
So*. I read about the 'Climate Cops' campaign created by Npower, that
…encourage(s) children to sign up as "climate cops" and keep "climate crime case files" on their families, friends and neighbours.

The ads, run by Npower, promote a website at www.climatecops.com where "trainees" must complete three missions before they can join the "elite cadets" and "train to become a climate cop".

These missions basically consist of a barrage of eco propaganda which the child must simply engage in in order to be accepted as a special agent of the green brigade.

The site offers a selection of downloads, including a pack of "climate crime cards", which instruct recruits to spy on families, friends and relatives, encouraging each of them to build up a written "climate crime case file".

[…]
Sounds nasty ay?
I surfed over to the Climate Cops website, played some of the dreadful Flash games, and read some of the propaganda. Its all as described by Infowars; pure Orwellian propaganda, junk science and brainwashing.
What piqued my interest was the offer of a 'teaching pack' available for the asking. So I asked.
A few days later, I received a 450g package in the post, 2nd class, filled with gloss varnished paper. I will now do an Apple product style 'unboxing' for you:
The package consists of:
1 A4 sheet printed on one side in two colors (letter)
A CDROM holding folder, printed on both sides, 4 color process, UV varnish
A CDROM
A 16 page A4 pamphlet, cover thick UV varnished card, interior pages unvarnished, 4 color process throughout, staple bound (teacher notes)
1 A4 sheet (teacher evaluation form)
8 A4 sheets, printed 4 color process both sides (information cards)
3 A2 sheets on thick card,, 4 color process, UV varnished, folded twice (posters)
1 A3 envelope, one color (freepost response envelope)
The smell of ink and solvents from this package was very strong, as you can imagine.
This is an extraordinarily wasteful product, completely unnecessary in the age of the internets, which also asks teachers to print out materials for their students wasting toner and even more paper once this paper bomb arrives at its target.
Now, lets go into some of the detail of what is printed in this appalling package.
This teaching resource uses PowerPoint presentations and games to guide the student into believing Global Warming propaganda. It leaves out a staggering amount of science, uses gutter street talk in an attempt to appeal to the illiterate student, and is a transparent and foul instrument of deception.
Lets take lesson 3 as an example.
In 'Lesson 3 – GLOBAL ENVIRONMENTAL CHANGE' the stated learning objectives are:

The fourth item is the one that is interesting to us; to do it, they use a series of lies and glaring omissions. Lets take a look at one or two.
The first glaring omission. Nowhere in this pack is the carbon life cycle mentioned. There is no mention of photosynthesis, or the fact that plants convert CO2 to O2. There is no chemistry, only the most dumbed down talking points.
The word 'plant' does not appear in the worksheets and related materials; the phrase 'tree planting' appears once, in the Sustainable Development slideshow (PDF), which is given as the answer to the question, "2) List three examples of carbon offsetting". The phrase tree planting is left by itself, without any explanation of why it would work to ameliorate the 'problem'. Of course this answer is in the context of the plan to measure everyone's 'carbon footprint' the pretext and basis for world wide taxation and micro-management of every aspect of life.
Look at this page: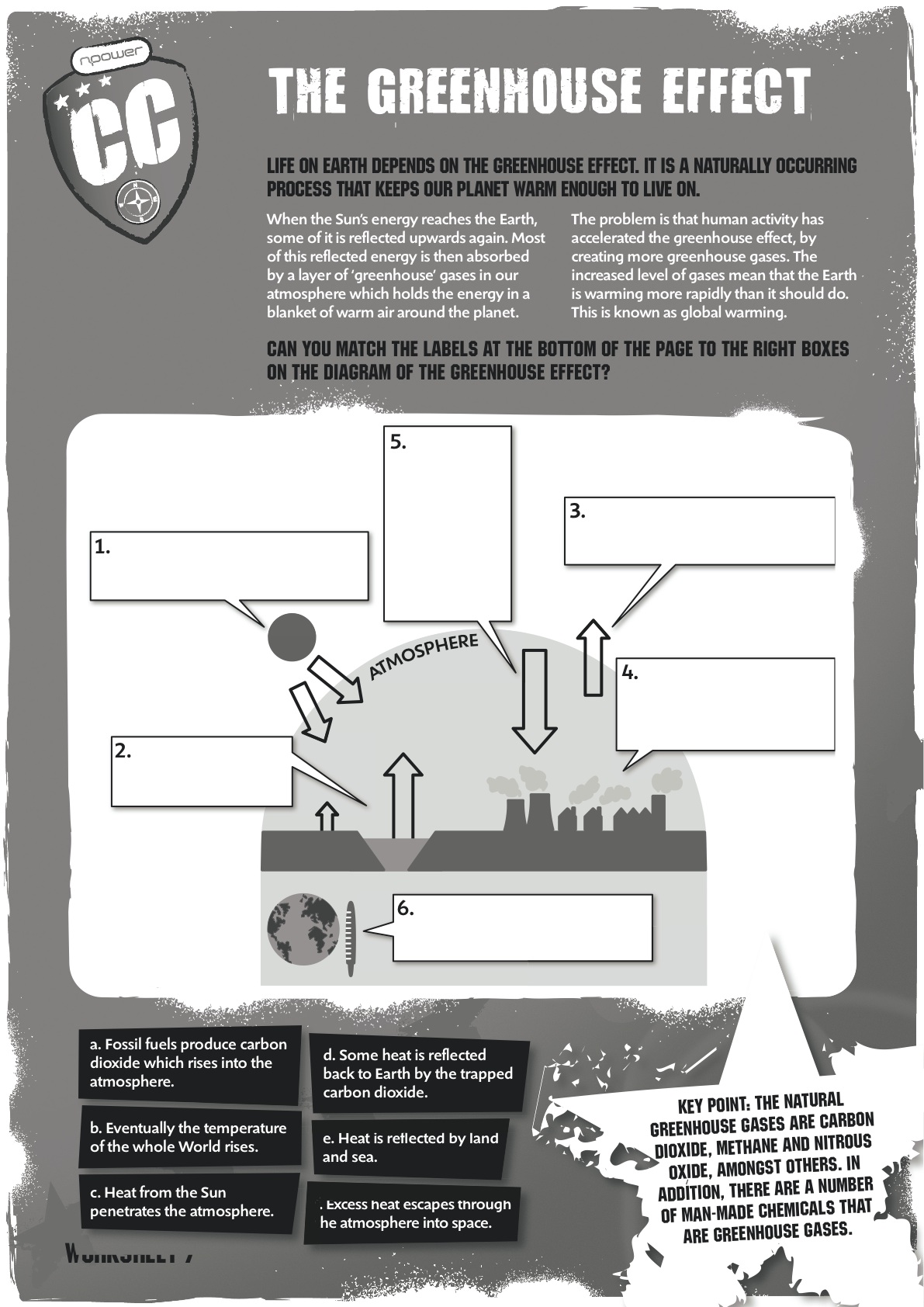 The astonishingly over-simplified diagram in the centre makes no mention of the plant life of the earth that absorbs the very gas that these liars say is causing all the problem. Why? Because the schoolchildren will instantly conclude that if plants absorb greenhouse gas (CO2), then all we have to do is plant like crazy to solve the problem. Every pre idiocracy schoolboy knows about the carbon life cycle. By leaving out the truth about the carbon life cycle of the earth (a lie of omission) they are disarming these hapless students, removing their ability to argue logically about this subject.
The makers of this package put the following pseudo disclaimer into a slideshow to be shown to students (PDF):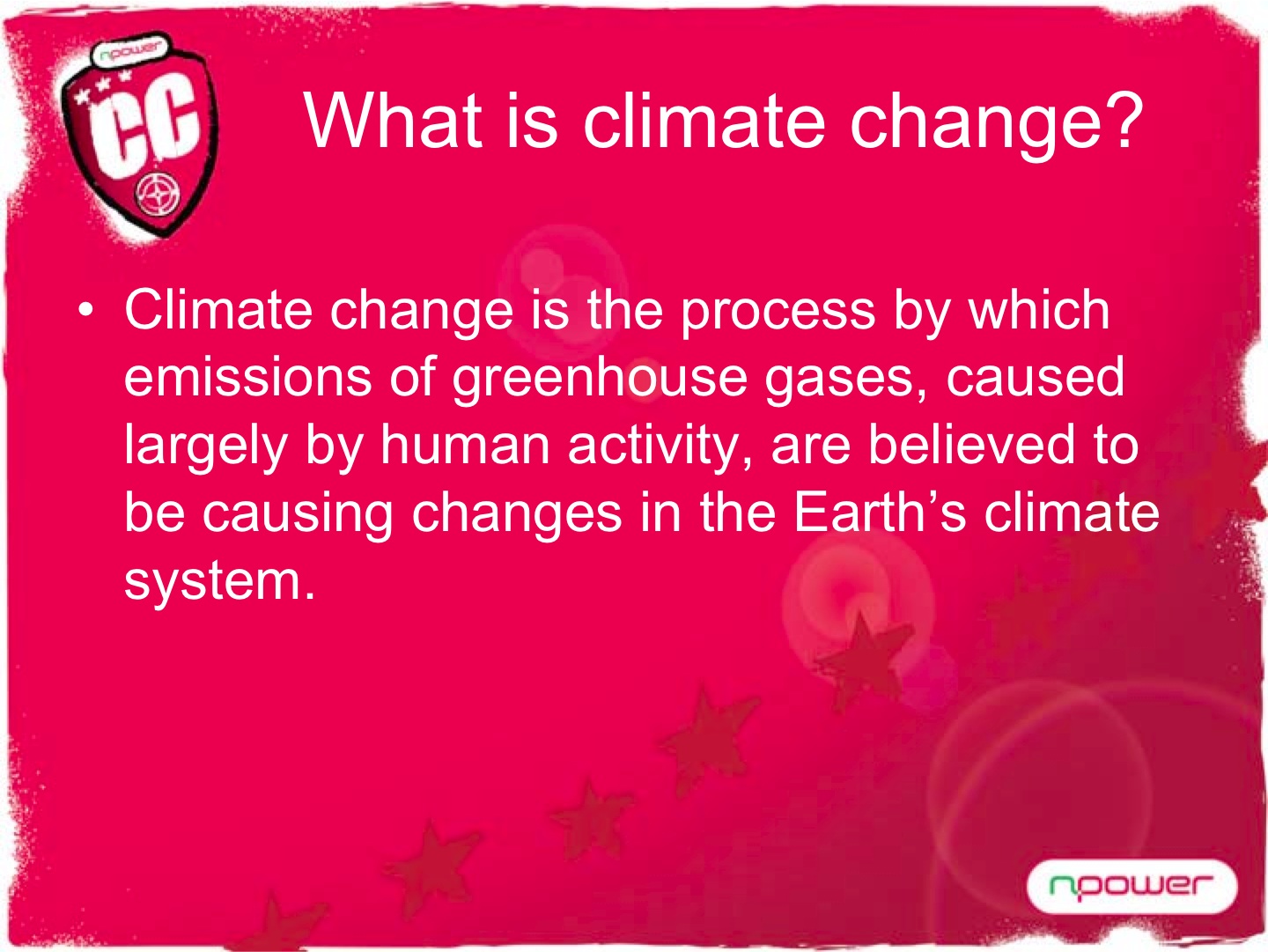 But then on the subsequent page are still propagating the now discredited IPCC report as if its claims are the absolute truth: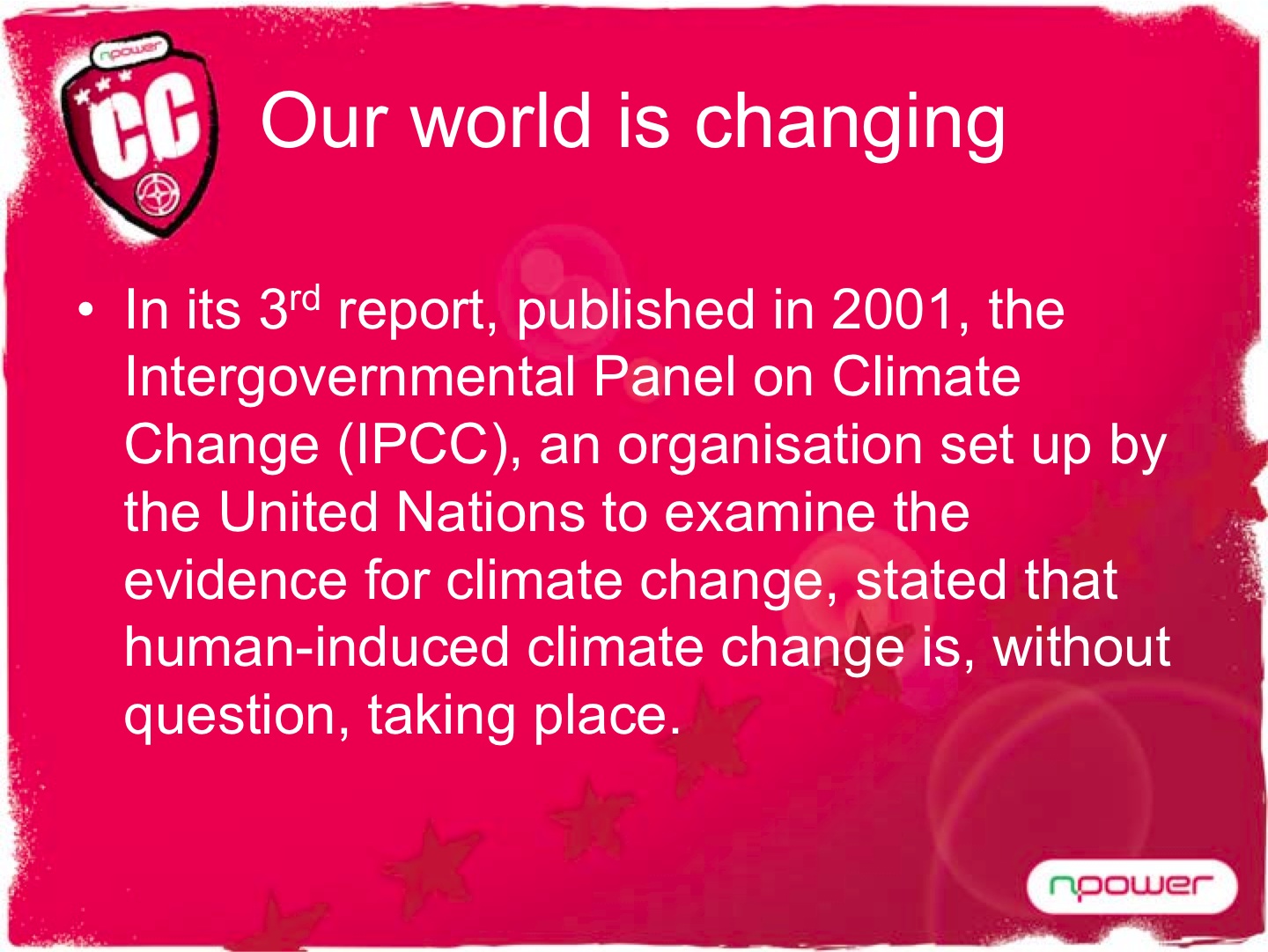 I think you get the gist of all this.
It is nauseating propaganda for the educationally submnormal.
"My house is proper old; and it is not insulated or double-glazed".
That is the sort of English in this pack. That is the 'thinking'. Of course, Etonians and Hone Schoolers will not be subjected to this garbage; the latter may do so only to demonstrate how utterly stupid the masses are, and how they are being corralled like pigs into the squeeze chutes….but I digress.
Finally, lets look at a particularly odius section.
Now, the person who was operating Adobe InDesign CS3 (5.0) on this occassion, forgot to put the image of the star beneath the list of Climate Change created disasters, so here they are:
2004 tsunami in South East Asia
2005 earthquake in Pakistan-administered Kashmir
2005 flooding in New Orleans, USA
2005 tornado in Birmingham
2006 drought in Australia
2006 eruption of the Tungurahua volcano in Ecuador
2007 flooding in the UK
2007 flooding in South East Asia
2007 forest fires in Greece
2006 drought in Australia
2006 eruption of the Tungurahua volcano in Ecuador
2007 flooding in the UK
2007 flooding in South East Asia
2007 forest fires in Greece
Now, at the bottom right of this page, in the smallest possible type:
comes this disclaimer:
*This activity is speculative. It is not currently possible to provide concrete scientific evidence to suggest that climate change is responsible for any of these events.
I wonder how many people would not bother to read the disclaimer, or who would read it and dismiss it. The sort of children who are spoken to with phrases like 'Our house is proper old' are not the fine print reading sort.
Make of it what you will.
The propaganda push for the Global Warming hoax is still going strong. They are repeating the same discredited lies over and over, and what is worse, they are recruiting an army of Orwellian snoops to enforce the new and completely insane regulations, so that everyone goes around with unwashed clothes, unwashed bodies, no fun, no freedom and a standard of living so reduced as to render this and the other technologically advanced countries unrecognizable to its citizens that will remember what life used to (and should) be like.
Of course, none of this needs to happen; what is for sure, is that the way out will not come from the classrooms where this propaganda is being spread.
* I loathe writing that contains sentences that begin with the word "so" don't you?